We've all been there, watching a match in awe of the athletes and their incredible feats. We wondered what it would be like to soar through the air like LeBron James or crush a massive home run like Aaron Judge or throw a side pass for a Patrick Mahomes-style touchdown.
Then we head to the backyard, a local park or a recreation league and do our best imitations. If you don't mind, there are video games that allow us to try and recreate these feats.
But unlike most sports, thoroughbred horse racing does not lend itself to casual competition. Weekend Warriors won't be racing against friends on the stretch at Keeneland or any other world class track.
This lack of access and relatability can prevent people from developing an affinity for the sport. But thanks to UK-based company Equine Productions, fans can get a taste of what it's like to race a thoroughbred in competition.
The Breeders' Cup JockeyCam VR experience allows users to don a virtual reality headset, sit in a seat developed for this experience, and, at least visually, feel like a jockey.
Register for BloodHorse Daily
Keeneland fans on Nov. 4-5 for the Breeders' Cup will have the opportunity to try out the VR experience without the specialty seat. Equine Productions will be installed behind the grandstand just after the paddock. Horse connections can get a taste on Nov. 3.
"I think that's the closest thing we can (give) to someone who's not into sports or has nothing to do with sports, the feeling of what it's like. to ride in a real race," said the company's co-founder. Nathan Horrocks. His ties to sport run deep. His grandfather and father were both jockeys and he was a steeplechase jockey for 10 years.
Equine Productions is the same company that developed the JockeyCam that is seen on racing shows on NBC and FanDuel TV. It is the precursor to this VR experience. The difference is that the JockeyCam only provides the viewer with the same perspective as the driver, the VR effort gives a 360 degree view.
Joe Perez and Ashley Fisher of BloodHorses try out the Breeders' Cup JockeyCam VR experience at Keeneland
Last year, Equine Productions launched similar VR offerings in the UK, which featured six different races, including an obstacle course.
Although the virtual race is predetermined, fans will have a different experience depending on which horse/jockey tandem they are paired with.
Horrocks described the race as choreographed. The process of getting those perfect dance moves took several months. Filmed at Santa Anita ParkAt the site of next year's Breeders' Cup, seven jockeys, Diego Harera, Abel Cedillo, Ryan Curatolo, Jessica Pyfer, Ricci Gonzalez, Umberto Rispoli and Edwin Maldonado, donned the cameras.
"It was awesome. It was like being on a horse," Maldonado said. "It gives people a chance to see our point of view. It was very realistic. It was cool, I loved it."
To ensure as much safety as possible, vets, ambulances and gate crews were present.
"We have to be quick, making sure everything we use (the horses) for is done in a safe way," Horrocks said. "So I got involved with (Senior Vice President and General Manager) Nate Newby at Santa Anita Park. And Nate was confident that we could get the right horses, horses that were going to have experience at that racetrack. Especially in the six – a one-and-a-half stadium start, which is down hill, which I think is going to be really exciting."
Equine Productions handicapped the race and worked alongside the horses' trainers, who guided the production team on who they thought was the best horse in the field. To avoid what Horrocks called a "disaster" scenario – one of the horses going to the front and staying there – it was determined that the best experience for viewers would be if the winning horse came from behind or in the middle. of the peloton.
Riders were instructed to stay safely in a group descending the hill until they crossed the dirt course in the stretch. But that's where the choreography stops.
"They were able to let the horses go and whoever wins from then on wins the race," Horrocks explained. "It felt like a real race in the last two and a half stages, but we just wanted to make sure they stayed in a group going down the hill to give the experience the best chance of succeeding and help the public to feel what it is. I like to participate in a real race."
The Breeders' Cup relationship dates back to 2017 when JockeyCam was first used in the United States at the event held in Del Mar.
"They've been driving our sport forward for years. We've had a great relationship with these guys. And every year we check out what's new," said Breeders' Cup Marketing Director Justin McDonald.
"Our ultimate goal would be: can we install this VR camera on every jockey during a live race?"
Bringing that kind of access to real racing – unorganized racing – would be an exciting prospect. However, this is currently fraught with pitfalls. While the JockeyCam weighs 2.6 ounces, the 360 ​​degree camera weighs over a pound and has a more pronounced presence on the jockey. Horrocks said the technology "will have to evolve again."
The 360-degree camera, which sits atop the jockeys helmet, is not yet ready for the races that matter. Horrocks said the size of the camera prompted a British Horseracing Authority doctor to call it a safety issue.
However, riders BloodHorse spoke to don't think the gear would be cumbersome or dangerous.
"Sometimes just when you put it on you feel a little different, but once you're in a race everything else slips away. It's just you and the horse and the adrenaline and you can't feel it," Pyfer said.
However, regular use of the technology may require some campaigning, especially considering the number of rides a jockey can complete on any given day and the process of preparing each ride.
"It's something that can be really special," Rispoli said of the technology. "You don't want it to go mainstream for people to see it."
He noted that an added element of 360-degree cameras is that they can give jockeys and trainers another tool when analyzing races from different angles than they are used to.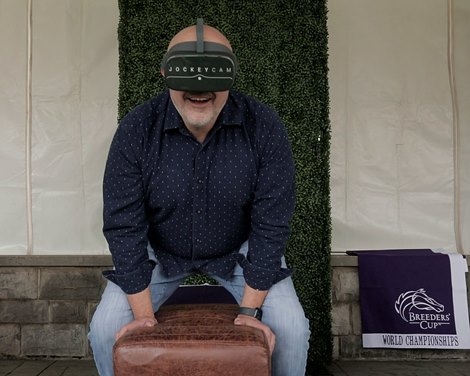 BloodHorses' Joe Perez reacts to The Breeders' Cup JockeyCam VR experience at Keeneland
For those unable to attend the Breeders' Cup, there will be the option to experience live 360 ​​degree cameras in the paddock and at the front of the track with a VR headset.
McDonald said that in addition to cameras in the walking ring and winner's circle, there will be 14 cameras placed on Keeneland's roof and in 14 saddle stalls. Fans can follow any horse they wish through the Breeders' Cup website and mobile app.
"We're one of the oldest sports in the world. I think that's to our benefit…but once you get people on the circuit, once you introduce them to everything our sport has to offer, they fall in love with it," McDonald says. "So our goal at the Breeders' Cup is to use the World Championships to really give people that experience and get them into the sport and show them that it's a really amazing sport."
Being on a trail is a sensory experience filled with distinctive sights, sounds and smells. And while virtual reality doesn't offer all of that, it does offer a different perspective. This perspective is one that Horrocks hopes to eliminate from sports stereotypes.
"It allows us to get into the masses, which we always try to do. We always try to reach a wider audience and especially an audience that wouldn't really see us as entertainment or a sport," he said. -he declares. "I'm sure there's still a younger generation watching us – that's what the rich and posh people do. You know, people who have money, they're all involved in horse racing .What it does, I think, is kind of get through all of this stuff, all of the nonsense of what we perceive and it helps show you what it's like physically."
It's not just about having fun. The ultimate goal is to encourage more fans for the sport and to develop a greater appreciation for the participants.
In addition to the JockeyCam and Breeders' Cup JockeyCam VR Experience, Equine Productions is also producing a show available on Amazon Prime in the UK and Ireland similar to the popular Netflix series 'Formula 1: Drive to Survive'. In a similar vein, "Horsepower" seeks to bring viewers closer to people and sports personalities. Horrocks hopes that one day it will be imported into the United States.
"The main thing for me to be on this kind of crusade, really, to use some technology or media means to bring the sport into the future, really," Horrocks said. "Other sports have been doing it for a while, but I wanted to bring this kind of technology to our sport of horse racing."